Product Feature:
1) Introduction
Biomass gasified power generator is a new type generation which can make power output by using biomass gas extracted from the raw material of wood waste, such as sawdust, rice husk, corn straw etc.
Biomass gasification generator makes combustible gas by using wasting material like rice husk, straw, sawdust through gasified. After dust collecting, cooling, dehydrating and other process, it can be good gas fuel. The power range is from 3kw-1100kw, reach international advanced level.
All the electricity can be provided to the appliances directly, and also can be automatic switch on grid-connected. Meanwhile, the waste heat can be used to make hot water or steam produced. It is a new technical process of high efficiency, clean, renewable biomass technology.
2) Production Process
The processed biomass material (Moisture below 20%, size below 30mm) is sent to gasifier from prebin, gasified under high temperature, and splitting the tar in gas, then into the clean and cool system after high efficiency dust collecting. The gas goes to generator to make electricity . through process of strict cleaning and full cooling. The workflow diagram shows in 2-1.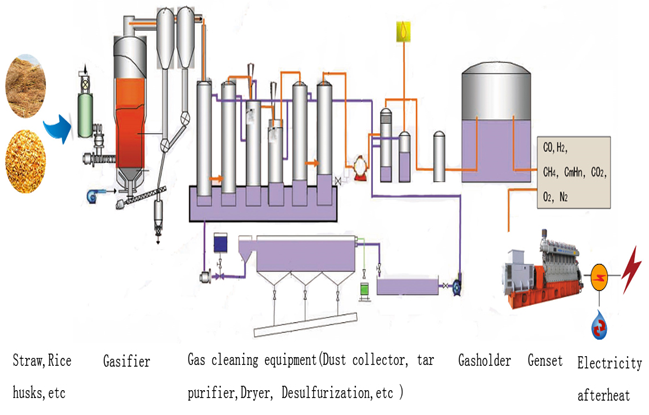 Technical Data
Model

Gas Produced

Gas Heating Value

Efficiency

Fan Power

Fuel Consumption

Power Generating

GLK-20A

15-20m3/h

4600-5200KJ/m3

72%

220V

8-10KG/H

5kw

GLK-30A

25-30m3/h

4600-5200KJ/m3

72%

220V

15-18KG/H

10kw

GLK-50B

50m3/h

4600-5200KJ/m3

72%

380V

25-30Kg/H

15kw

GLK-100B

100m3/h

4600-5200KJ/m3

72%

380V

50-60KG/H

30kw

GLK-150B

150m3/h

4600-5200KJ/m3

72%

380V

70-90KG/H

50kw

GLK-200B

200m3/h

4600-5200KJ/m3

72%

380V

100-120KG/H

60kw

GLK-300B

300m3/h

4600-5200KJ/m3

72%

380V

150-160KG/H

100kw

GLK-400B

400m3/h

4600-5200KJ/m3

72%

380V

200-220KG/H

120kw

GLK-500B

500m3/h

4600-5200KJ/m3

72%

380V

250-270KG/H

150kw

GLK-600B

600m3/h

4600-5200KJ/m3

72%

380V

300-320KG/H

200kw

<p style="border: 0px; font-style: inherit; font-variant: inherit; font-weight: inherit; font-stretch: inherit;font-size:undefined; lin